Leisure
Where To Go Swimming Outdoors In Wrocław (2019 Update)
Outdoor pools are now open for summer. Here's where to go swimming.
Wrocław's outdoor pools and swimming-friendly lakes are now open to the public again for the summer season.
The outdoor swimming pools and lakes will remain open until the end of the season on August 31st.
Here is a quick summary of some of the places you can swim outdoors in Wrocław:
Wejherowska outdoor pool
Busy crowds at Wejherowska a few years ago (photo © dolny-slask.org.pl)
Newly improved after a refurbishment for last summer's World Games, the Wejherowska outdoor pool has attracted huge crowds on hot weekends for several years now. 
Entrance here costs 18zl during the week and 20zl at weekends (concessions pay 3zl less). After 16.30 however, everyone can get in for 8zl no matter what day of the week it is. 
Morskie Oko
Morskie Oko sports 5 hectares of water and 10 hectares of beach, a water silde, 2 beach volleyball courts as well as a beach bar.
A normal ticket is 10zl during the week and 13zl at weekends. After 5pm on weekdays you can get in for half price, while concessions for students are also available. 
Kłokoczyce
Photo Jaroslaw © Jakubczak/Polska Press
The outdoor swimming facility at Kłokoczyce features a full size pool, a paddling pool for kids and an area for beach-volleyball.
The prices for entry are exactly the same as at Morskie Oko. 
Kąpielisko Glinianki
Photo © visit-wroclaw.eu
Part of the wakepark watersports complex, Kąpielisko Glinianki is one of a couple of places where you can swim outdoors near the Municipal Stadium. 
For those not keen to jump in the water, the venue has football tables, a beach volleyball court and a bar with a grill. If you do wish to take a dip, the cost of using the pool is the same as the last two places in this article.
Staw królewiecki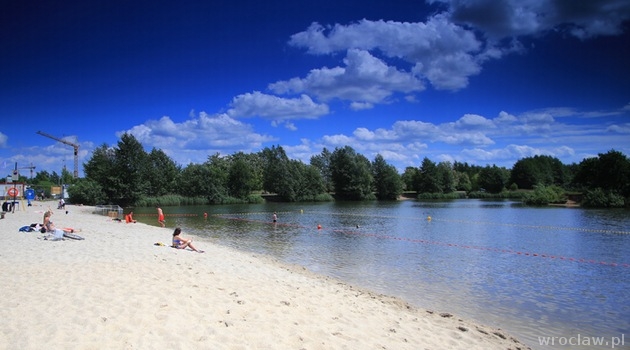 A little bit further up the road from Kąpielisko Glinianki is Staw królewiecki, a small pond that is safe for swimming and costs absolutely nothing to use. 
A lifeguard is on duty throughout the time the pond is officially open and there are toilets on site too. The pool will open a little later than the others though, on June 20th.
Basen "Oporów"
Photo © Janusz Krzeszowski / wroclaw.pl
Oporów's outdoor swimming pool was brought back to life in 2016 after a decade of remaining closed. 
The pool was of course subject to a fairly significant facelift, and the facility now includes sandy and grassy areas to bathe on as well as new showers. A lifeguard is also always on duty at the pool. 
Using the pool is completely free, however it won't be open until the start of the school holidays (June 20th).